Cupping Therapy San Diego
Cupping therapy is a very simple treatment that can significantly impact your health. This treatment involves placing special cups on the patient's skin to create a suction sensation that acts as a vacuum to help increase blood circulation and withdraw toxins from the body.
Many people don't realize how dependent the immune system is on properly functioning blood circulation and lymphatic system. When the immune system is in proper order, you feel healthy, well-rested, and energetic. However, when our immune system is not functioning, pain and disease begin to impact the body.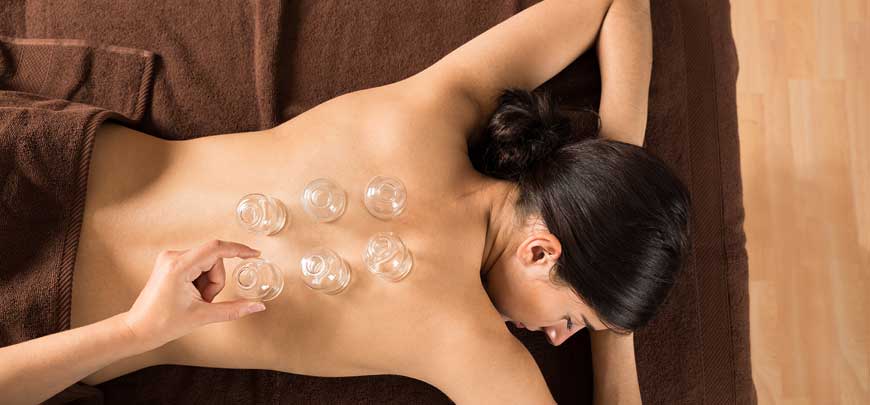 The pulling power of cupping therapy has been used for centuries to help reduce pain and enhance the feeling of well-being.
Benefits of Cupping Therapy
Cupping therapy is a stimulating and strengthening experience to take advantage of when the body is injured or sore. Cupping therapy can be highly beneficial for many conditions, including:
Sore Muscles
Aches and Pains
Back Pain
Headaches
Injuries
Period Pain
Fatigue
Arthritis
Asthma
Sciatica
Depression
Emotional problems
Anemia
Atrophy
Common Cold and Flu
Skin Problems
Weight Loss
Cellulite
Although we have specified some conditions in which cupping therapy can help, there are several other conditions and injuries that this therapy can help.
Pain Related Conditions

Cupping therapy can be great for back and joint problems because it increases blood circulation and mobility, and it can help rheumatism, lumbago, and stiff joints.

Rheumatic Diseases

Cupping therapy can be great for back and joint problems because it increases blood circulation and mobility, and it can help rheumatism, lumbago, and stiff joints.

Arthritis

Cupping therapy can also be highly effective in treating arthritis and pain. Therapy is concentrated on the areas affected by arthritis and any associated arthritis pain and discomfort.

Chest and Heart Diseases

Cupping therapy may also help lung diseases, such as chronic cough, pleurisy, bronchial congestions, asthma, congestive heart failure, high fever, pneumonia, and acute pneumonia

Gastrointestinal Diseases

The stomach, spleen, and intestines are crucial to the functionality of the human body. Cupping therapy stimulates movement and secretion of digestive fluids, which supports digestion.

Urinary Diseases

Cupping therapy may help treat kidney stones, abscesses, and urine retention in adults. Cupping therapy can support urine retention when cups are applied to the lumbar region.

Dermatologic Diseases

Boils, abscesses, herpes, acne, cellulite, and urticaria may all benefit from cupping therapy. Cupping expands blood vessels to improve blood flow and remove toxins from the surface of the skin.

Psychological Diseases

Cupping therapy has been known to be effective for anxiety and worries. Cupping and a massage may also help balance hormones, which is very effective when treating depression.
Suffering with Aches and Pains?
At Hifai Chiropractic, we are highly experienced at providing pain relief with chiropractic care. Call now to get started with your customized treatment plan!
What Our Patients Are Saying
Listen to our patients share their experiences and find out why we are the top-rated chiropractic clinic in the San Diego area.
Get $59 New Patient Special!
Come into Hifai Chiropractic for Consultation, Examination, Computer Surface EMG Scan with Report & 1 Month Of Free App Access.